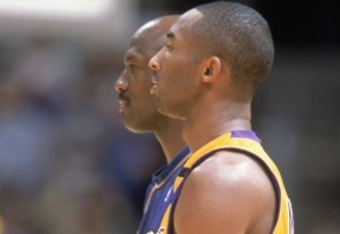 This story is sure to invoke a lot of controversy, but Avery Johnson said today that Kobe Bryant could be as good as Michael Jordan when all is said and done. These comments are by Avery in the New York Post:
"[Bryant] could arguably be 1. In some polls, he'll be 2," the Nets coach said yesterday about the players he has seen since he entered the NBA in 1988. "He could be 1-A and Jordan can be 1-B or Jordan, some polls they'll be flipped.
"Fortunately I had a chance to play against both of them and now played and coached against Kobe. And boy, sometimes they're looking like the same player."
I am sure that no one is going to oppose this viewpoint right?
Bryant just passed John Havlicek for 11th on the NBA's All-Time scoring list and will likely finish the season near the top 5. He has a lot of good years left as he is only in his early 30s. If he stays above 20 points per game it will only take him about 4 years to get to Jordan on that list. He will most likely end up with as many rings as Jordan if not more, but will never catch him in MVP's although many believe he should have a couple more already.
Is Avery crazy or do we need to take a closer look at this?