Lakers-Celtics, Celtics-Lakers...even if you aren't an avid basketball fan you are excited for this matchup. 
The Los Angeles Lakers have been to the most Finals, going 15-16 while the Boston Celtics have the most Championships with 17 in 20 tries.  These teams have met 11 times in the Finals with the Celtics winning 9 of them. 
These finals mean so much more than just another shot at a championship to the players and organizations involved.  Lets look at how.
This rivalry on the surface seems very one sided with the Celtics sporting an 82% winning percentage.  On the contrary it has developed into an intense closely contested rivalry.  The key is that 7 of the Celtics 9 wins came in an 11 year span from 1959-1969 when the NBA was the Celtics play thing.  The Lakers were really good during that time, but the Celtics were the greatest dynasty of all time.  Not to take away from that, but the rivalry has become more about Bird-Magic and the more recent Kobe-Pierce.
Since that domination, Magic Johnson lead the Lakers over the Celtics and Larry Bird two out of three times and Paul Pierce  lead the Celtics over Kobe Bryant's Lakers in their one matchup.  Kobe is looking to follow in Magic's footsteps and defeat the Celtics on his second chance.
Now here is what makes this year's matchup special.
As the 2 past champions, the teams can rightly claim that they have been the best team in their year (Celtics in '08 and Lakers in '09).  So it is special as a  rematch of not only the 2008 championship, but more importantly the two former champions.  The thing that makes it one of a kind is that the year the other team won the championship, each team had a legitimate case that they were actually the best team that year.
In 2008 the Lakers were able to win the West despite injuries to key players, as their star players (Kobe and Gasol) were healthy.  They were unable to overcome these in the Finals against the Celtics big 3 (Pierce, Allen, and Garnett) who were hungry for a championship knowing that their time frame is small.  The reason most pointed to that led to a Celtics victory was that the Celtics out-toughed the Lakers.  If 7 foot, 267 pound center Andrew Bynum had been healthy it would have gone a long way.  He matched up better with Celtics center Kendrick Perkins and would have allowed Lamar Odom to make the Lakers bench a little less awful plus it would have allowed him to play against people he could have matched up against.  Also the defense on Finals MVP Paul Pierce could have at least slightly better if small forward Trevor Ariza was healthy for the series.
In 2009  the Celtics defensive leader Kevin Garnett was unable to play in the playoffs due to injury.  Unlike the Lakers injuries the previous season, this loss was too much for the Celtics to overcome to win their conference.  They barely missed it, falling in seven games to eventual East champion, the Orlando Magic.  In that series Dwight Howard dominated, grabbing an absurd 22 boards in the 1st and 6th games.  It is obvious that he would have not gotten numbers of that magnitude if Garnett was there.  For those seeking proof, look at this year's series.  The Celtics were a tablespoon of cockiness away from sweeping the defending Eastern conference champions.  As for the matchup with the Cleveland Cavaliers that would have resulted had the Celtics beat the Magic, very few outside of Cleveland would choose them to win that matchup.  Simply put, on a scale of 1-10 LeBron James has a clutch factor of 1.  Again if proof is needed, this year does it.  Beyond that, the Celtics and their fans have no reason to believe they would have lost last year to the Lakers in the Finals.
That is all why this year is key, it will validate the winner's previous championship and taint the losers to a certain degree.  It will not change history but in the minds of most now it should be obvious that due to each team being almost completely healthy, there will be no debate that this is it.  The Lakers do have home court advantage, but the Celtics are a better road team (26-15) than a home team (24-17).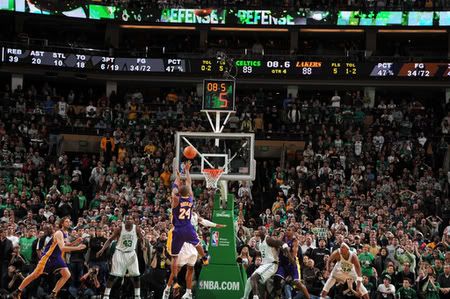 When talking about the greatest of all time, there are always statistics brought up in the argument.  However, on that level, perception is reality.  Kobe is already at a disadvantage when compared to Jordan for reasons unrelated to his play.  That is why this championship is his last chance.  There always is the crazy off chance that the Big 3 are invincible or that Rondo will take over the team with Perkins and there is no drop off, but more likely than not, if this isn't the last Lakers-Celtics matchup in the near future, it is the second to last.  Even if Kobe ends up with 7 championships, a large part of his legacy will be that he could not beat the Celtics.  A loss here even puts into question his status as greatest Laker of all time.  If it ends at Magic 2-1 while Kobe is 0-2, that will hurt him in big ways.
If Kobe wins, he is a huge step closer to greatness.  His goal has always been to be #1 and this will help.  He will reach his 5th three years before Jordan with a window that is closing, but he will have multiple shots at 6.  A Laker win in this championship will get them just a step or two away from winning one next year.  This will put an air of inevitablity on the Lakers winning a championship next year.  So far, whenever Phil Jackson has won 1 ring, he has followed it up with 2 more.  He is 3 for 3 at this.  If the NBA sees the Lakers take down the Celtics, their biggest nemesis, it will seem like next year shouldn't even be played.  While most championship teams obviously won't have that mindset, it will be something in their heads, and that goes a long way.
Another factor is that Pau Gasol and Lamar Odom will have a negative reputation for the rest of their careers about being soft and their ability to perform in big games.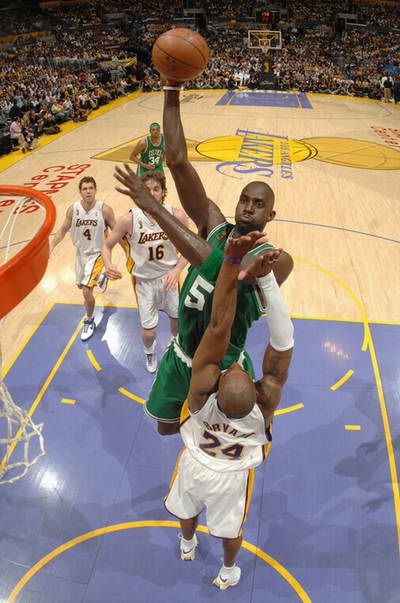 The Celtics Big 3 are old.  This is a fact not an opinion.  Something that is an opinion is how much longer their window is open.  A championship here begins the Rondo dominated era and essentially gives them a three peat.  The transition from big 3 to big 1 looks much easier and the Celtics are huge favorites for next year.  Boston keeps its dominance over LA and shows that it is the franchise of the NBA. 
Winning a second championship also helps seal the legacy of the big 3.  Will they go down as a an old group of guys who got lucky once, or a solid group of great players?  Pierce struggled for a long time in bringing success to the franchise and failed with Antoine Walker.  Beating the Lakers twice including at least 1 MVP will help him qualify as a great Celtic.  Garnett was dominant with the Timberwolves but never managed a championship, and a second championship could help cement him as one of our generation's great big men while it would help Allen become more than just a good shooter.
If the Celtics lose, then questions will abound about whether or not they still have it.  The big 3 will be too old, slow, and tired.  My bet is that their will be some major change or just more coming up short.
Ron Artest is new and Rajon Rondo is basically a completely different player.  The post players are as healthy as post players usually are.  The teams match up so well it is ridiculous.
Who is tougher?
Who is more skilled?
Who can execute at a higher level?
Who wants it more?
I dont know about you, but I can't wait to find out.